THIS TRADITIONAL SCREEN DOOR COMES IN THREE DIFFERENT GRILLE DESIGNS AND A RANGE OF COLOURS.
OVERVIEW
Sometimes you just can't go past a classic! The most common design of our Grille Range is called the Sentry (A127) Design which is a popular diamond grille pattern seen all around Australia. Also on offer are the more Decorative option of the Decorative Diamond (A227) or the Small Diamond (A117).
FUNCTIONS
Our Grille Safety Doors offer protection against potential intruders and are a wonderful barrier to have between your customer and a 'visitor', giving peace of mind when opening the door to a un-welcomed knock in the night!
Privacy can also be provided by upgrading the door from standard flywire mesh up to DVA Restricted Vision Mesh – a common choice for a front door. Or Upgrade to Tuffscreen or Pet Mesh if desired.
The SABS Security Doors can be ordered to have pet doors installed during manufacturing – see the brochure here to see size and colour options available.
GRILLE DESIGNS
A127 STANDARD SENTRY DIAMOND
A227 DECORATIVE DIAMOND
A117 SMALL DIAMOND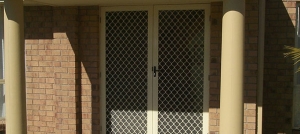 3 HINGES AS STANDARD
At SABS our product quality is something we really pride ourselves on. That's why our Security Doors come standard with 3 Hinges, whereas some suppliers only supply 2. This gives a firmer fit and a better life expectancy of the door dealing with house movement etc. Hinges can be installed in 'standard' locations down the door (to suit your door drop) or can be installed in specified locations to suit existing door frame notches.
RESTRICTED VISION MESH
Our Grille Doors come standard with Aluminium Flywire Mesh. Many customers choose to upgrade to Restricted Vision Mesh (also known as DVA), which is available in a 6 standard colours: Bronze, Clear Anodised, Pearl White, Primrose, Satin Black & Stone Beige, but can be powdercoated to any Dulux Powdercoat colour. Keep in mind – the lighter the colour, the harder it is for the 'visitor' to see through! (DVA not recommended for Sliding Doors)
TUFFSCREEN & PET MESH
Our Range of possible meshes also includes Tuffscreen & Pet Mesh. Tuffscreen is thicker than standard flywire and is much better suited in high traffic areas or areas where children may push against the mesh. Pet mesh is a much softer feeling mesh, which when in contact with claws/paws is flexible enough to move with the force and resist wear and tear.
DOOR CLOSERS
All of our hinged doors are supplied standard with Door Closers in a complementary colour. These can also be purchased separately as parts if required.
HIGH-QUALITY LOCKS
We provide Straight-Tongue Single Point Austral Locks as standard with our Decorative doors. Customers can upgrade to triple locks for extra strength when closed or can upgrade to parrot-beak tongues for added protection.
MANY COLOUR OPTIONS
Our Doors are available in 7 standard Category 1 colours and 7 Category 2 colours. Or we can Powdercoat to any Dulux Powdercoat colour to achieve a cohesive look for your customers home.