DECORATIVE CAST PANEL DOORS
PERFECT FOR DECORATIVE HERITAGE HOMES, OR CREATING A DESIGN FEATURE ON MODERN HOMES.
OVERVIEW
A SABS Decorative Cast Panel Door gives customers the option of personalizing the appearance of their homes, whilst still giving you Security and Privacy. Our Decorative Cast Doors are strong and durable and rust will never be a problem due to gravity die casting.
FUNCTIONS
A Decorative Panel door provides a barrier between your customer and a person at their door. These doors come standard with a single lock and flywire mesh, however, they are commonly upgraded to Restricted Vision Mesh (Also known as DVA) and triple locks. A Bug seal can also be added to the base of the door to keep insects out.
We obtain our Cast Panels from two suppliers, to give you a range of options for your customers. Click their names below to see their latest brochures
FEATURES
Decorative Cast Panel Doors include the following features.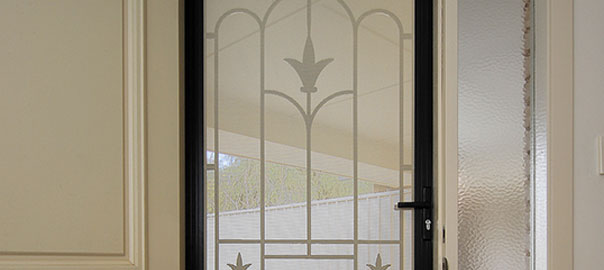 RESTRICTED VISION MESH
Our Decorative Cast Panel Doors come standard with Aluminium Flywire Mesh. Many customers choose to upgrade to Restricted Vision Mesh (also known as DVA), which is available in a 6 standard colours: Bronze, Clear Anodised, Pearl White, Primrose, Satin Black & Stone Beige, but can be powdercoated to any Dulux Powdercoat colour. Keep in mind – the lighter the colour, the harder it is for the 'visitor' to see through! (DVA not recommended for Sliding Doors)
TUFFSCREEN & PETMESH
Our Range of possible meshes also includes Tuffscreen & Pet Mesh. Tuffscreen is thicker than standard flywire and is much better suited in high traffic areas or areas where children may push against the mesh. Pet mesh is a much softer feeling mesh, which when in contact with claws/paws is flexible enough to move with the force and resist wear and tear.
UPGRADE TO TRIPLE POINT LOCKS
Triple point locks fit firmer into the door frame, creating a stronger resistance to an intruder trying to 'jimmy' the door open with a crowbar. This gives greater peace of mind and is a common upgrade for front doors.
3 HINGES AS STANDARD
At SABS our product quality is something we really pride ourselves on. That's why our Security Doors come standard with 3 Hinges, whereas some suppliers only supply 2. This gives a firmer fit and a better life expectancy of the door dealing with house movement etc. Hinges can be installed in 'standard' locations down the door (to suit your door drop) or can be installed in specified locations to suit existing door frame notches.