THE CHERRY ON TOP OF THE SUNDAE! A PELMET IS A PERFECT ADDITION TO FINISH A BLIND – IT ALSO HAS ADDED HEAT DEFLECTING BENEFITS!
OVERVIEW
The SABS Range of Blind Pelmets features 5 styles, each showcasing their own range of designs and options. Some pelmets available are purely aesthetic, whereas others serve a wonderful purpose in stopping light and heat from omitting from over the top track/roller. View our range of styles below.
LINEA VALANCE
A simple and budget-friendly way to cover the top of a blind – purely for aesthetic purposes.
Available in 98mm or 140mm Fascia Size
Available in White, Cotta or Black
Can be provided with or without fabric inserts
Order to suit reveal or face fix installations – returns will be provided to suit
SKYLINE FASCIA
A sleek, modern pelmet which is open top and bottom – purely for aesthetics, but what a beautiful aesthetic it provides!
Available in Square or Rounded Fascia Style
Available in 75mm or 135mm Fascia size
Standard Colours are: Black, Natural Annodised or White
The Pelmet ends

are

the blind brackets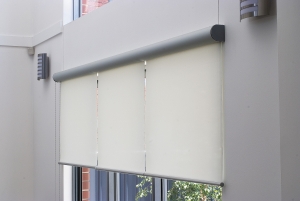 CF PELMET
Combining functionality with beauty, this modern pelmet also enhances the heat-reducing properties of the blind, as it is a fully enclosed pelmet top and bottom which stops light and heat from being omitted around the top roll.
Square or Rounded profile available
Available in Black, Natural Anodised or White
Can be used over multiple blinds (blind brackets are separate to the pelmet)
Can be ordered as a 'fascia only' if requested
TIMBER PELMET
Our classic and sturdy Timber Pelmet is a timeless solution which also has a closed top to stop light and heat from passing around the top of the blind.
Custom made so can be manufactured to any size configuration
Painted in a 2 Pac Acid Cure in White or Birch White Semi Gloss – can be provided in any Dulux Paint Colour at an additional cost
Can be supplied unpainted for a lesser price to meet your customers budget restrictions
METRO HOOD
Metro Hoods are custom made in a factory a few suburbs away, a fabric wrapped timber pelmet which provides customers with a custom look, perfect for their interior.
Available an array of Fascia Sizes: 150mm, 200mm, 250mm or 300mm
Can be made to suit Reveal or Face Fit applications
Made with blockout blind fabric, can be pattern matched if needed to suit
Light Padding can be added to soften the edges/corners of the pelmet
LASER CUT PELMET
Laser Cut Pelmets are sophisticated and stylish and available in an array of styles. They commonly come with an open top, but a top cover insert can be provided.
Available in Plain style or in 7 cut out designs
A Fabric backing can be fitted inside the pelmet if requested.
Fascia sizes include: 110mm, 170mm, 230mm & 320mm
Available in half a dozen standard colours, but can be Powdercoated to any Dulux Powdercoat Colour