A SOPHISTICATED BLIND FOR ANY HOME THAT COMBINES THE FLEXIBILITY OF A VERTICAL WITH THE SOFTNESS OF A CURTAIN.
OVERVIEW
The latest innovation in internal blinds – the Vertisheer Blind! Put simply, it's a combination of a Vertical Blind & a Sheer Curtain!
FUNCTIONS
Get the best of both worlds! Your customers will benefit from having the ultimate control of light using the blockout blades, which are attached to the sheer fabric (operating on the one track), yet have the soft chic look and daytime privacy of a sheer curtain.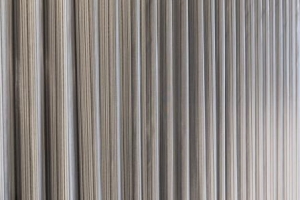 SLEEK LINES
The sheer fabric available in this blind comes in 4 complimentary colours, all which feature a vertical stripe which enhances the ceiling height and clean lines of the room.
2 CHOICES OF OPERATION
Commonly Wand Operation is chosen, as it compliments the modern finish of this blind. However, if requested (at no additional cost) Vertisheers can be supplied as Cord & Chain Operated (much like a traditional Vertical Blind).
CONTINUOUS FABRIC
We only use continuous fabric, so the largest of windows can be covered without joins. Innovative technology is used to cut the fabric, which also means no hems at the base of the sheer which achieves the the ultimate sophisticated finish.