ZIPTRAK® BLINDS ARE PROUDLY DESIGNED IN SOUTH AUSTRALIA, WITH OUR CONDITIONS AND NEEDS IN MIND.
OVERVIEW
With no zippers, straps, cords or winders, Ziptrak® awnings are a sleek and practical solution for creating the perfect outdoor entertaining area. Resistant to wind, rain and heat, the unique Ziptrak® design means all year round entertaining. This system was designed in South Australia and was the first product of its kind to hit the market, and it certainly has proved to be a very popular and dependable blind.
FUNCTIONS
The specially designed fabric Kedar and aluminum track system not only guides the blinds smoothly up or down, but also results in a much flatter appearance when fully extended and locked into place. The cleverly designed locking mechanism features a handle which can be released by hand, or by using a pull stick which eliminates the need to bend down – a great option for the mobility impaired.
Offering greater protection against wind, rain and heat, this channel system provides an effective barrier against the elements – although the Ziptrak® system is not designed to withstand gale force storm conditions and awnings should be retracted under these conditions to avoid unnecessary damage.
STANDARD COLOURS
Ziptrak® Componentry is available in 5 modern colour choices
Standard colour choices available at no additional costs are listed below:
Black
Paperbark
Primrose
White
Woodland Grey
However, if you would like your componentry powdercoated to any Dulux colour, we would be more than happy to have this done for you.
FEATURES
Ziptrak® awnings are ideal for enclosing patios or verandahs for protection against the elements.
PROTECTION FROM THE ELEMENTS
Ziptrak® Blinds shield any outdoor living space from wind, rain, dust, glare and insects. A great solution to make the most of outdoors while being protected from undesirable weather.
EASY OPERATION
Available in spring-loaded or motorised operation the Ziptrak® system is one of the easiest choices for external blinds. An easy to use centre release handle allows quick unlocking from the middle of the blind or where necessary both sides.
A CHOICE OF FABRIC
Available in clear or tinted PVC or mesh fabrics to provide shade and view. Ziptrak® Blinds needs little more than an occasional clean and a squirt with food grade silicone spray in the side channels to keep working for years.
KEDAR SYSTEM
The Ziptrak® Blind uses a unique fabric Kedar which is welded to the fabric to travel through the channel and track system. This two-piece side system allows movement and play when installing in most out of square situations.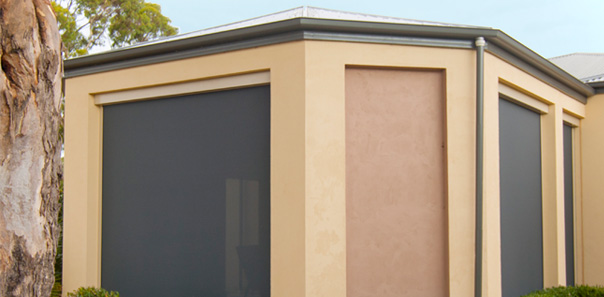 AUSTRALIAN OWNED AND INVENTED
Ziptrak® Blinds are an invention of a local South Australian company designed specifically to extend the outdoor entertaining season in Adelaide's weather conditions.
OPTIONAL WRAP-AROUND HOOD
Customers often choose to finish this blind with the fully enclosed Ziptrak® Hood to hide the workings of the blind. All componentry can be powdercoated to any Dulux powdercoat colour if requested.