INSTALL PIVOT ARM AWNINGS TO WINDOWS AND PROTECT SOFT FURNISHINGS FROM HARMFUL UV RAYS.
OVERVIEW
Direct sunlight through windows and doorways can make homes uncomfortably hot in summer – and UV rays can also reduce the lifespan of curtains, carpets and furniture. Pivot arm awnings are an attractive and affordable option to create shade over windows to keep homes cooler during the day and protect soft furnishings. Internal control mechanisms also make these an ideal shade for hard-to-reach windows, so every room in your home can be shielded from heat and sun damage.
FUNCTIONS
As their name suggests, pivot arm awnings extend out on arms which pivot to easily adjust the angle of the awning. To increase the area of shade, you simply lower the angle of the arm, which can be done with internal cord lock, internal winch or motorised mechanisms. This also gives you a great deal of control over the air-flow around the awning, so you can still enjoy a summer breeze, without feeling the direct effects of the sun.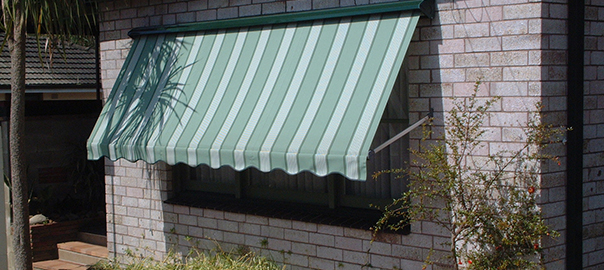 THE PERFECT SOLUTION
Designed for shade protection over windows and doorways.
EASILY CONTROLLED
Internal Cord Lock, Winch or motorised mechanisms make operation a breeze.
FLEXIBILITY
Arm angle allows optimum shade and air-flow.
SUN-RESISTANT
Our fabrics protect your soft-furnishings from fading and harmful UV damage.
REDUCE THE OVERALL HEAT LOAD
Making for more comfortable days at home and smaller cooling costs.
SEVERAL FINISHES
Choose fabric colours, patterns and bottom flap styles to compliement the design of your home.
IDEAL SCENARIO
For hard-to-reach windows, where external operation is difficult
ATTRACTIVE EXTRAS
Attractive metal hoods available to complete the look of your awning.